It can be difficult to find the right carpet cleaning service, but with this article, you'll have all the information you need to make a great decision.
What is Carpet Cleaning?
Carpet cleaning is the process of removing dirt, stains, and other debris from carpets. Carpet cleaners use a variety of methods to clean carpets, including steam cleaning, dry cleaning, and shampooing.
Most professional carpet cleaners offer a wide range of services, including:
vacuuming
stain removal
pet stain and odor removal
deep cleaning
Scotchgard protection
The Benefits of Professional Carpet Cleaning
When it comes to carpet cleaning, there are many different methods that can be used. However, professional carpet cleaning is often the best option for those who want to ensure their carpets are clean and free of dirt, dust, and other allergens. Here are some of the benefits of professional carpet cleaning:
Thorough Cleaning – One of the main benefits of professional carpet cleaning is that it is a much more thorough process than other methods. This means that your carpets will be left cleaner and will last longer.
Safe for Allergies – If you or someone in your family suffers from allergies, professional carpet cleaning can be a great way to reduce the amount of allergens in your home. This can lead to improved air quality and less sneezing and sniffling!
Pet-Friendly – If you have pets, you know that they can track in all sorts of dirt and germs. A professional carpet cleaning will remove pet dander, hair, and other allergens that can trigger allergies or make it difficult to breathe.
Eliminates Dust Mites – Dust mites are tiny creatures that thrive in dusty environments. They are often the cause of asthma and other respiratory problems. Professional carpet cleaners will use special vacuums and solutions to eliminate dust mites from your carpets, improving your health and the air quality in your home.
Freshens Up Your Home – Carpets that are clean and free of dirt and dust look and smell much better than those that are full of allergens. This can make a big difference in the overall appearance of your home.
Protects Your Investment – Your carpets are an investment, and you want to protect them from wear and tear. Professional carpet cleaning can extend the life of your carpets, saving you money in the long run.
Convenient – Carpet cleaning is a convenient way to keep your carpets clean. You won't have to worry about lugging around a vacuum or renting a steam cleaner. All you need is a professional carpet cleaning company to come to your home and do the job for you.
Affordable – Many people think that professional carpet cleaning is expensive, but this isn't always the case. In fact, it can often be more affordable than other methods, such as renting a steam cleaner or purchasing a new vacuum.
Quick – A professional carpet cleaning company can usually get your carpets clean in just a few hours, which means you won't have to spend all day waiting for them to dry. This can save you time and money!
Things to Consider before Booking with a Professional
When you are considering booking with a professional for carpet cleaning, there are a few things that you will want to keep in mind. The first is the cost of the service. You will want to make sure that you are getting a good deal on the price of the service. The second is the quality of the work. You will want to make sure that you are getting your money's worth when it comes to the quality of the work. The third is the time frame. You will want to make sure that you are getting your carpets cleaned in a timely manner so that you do not have to wait too long for them to dry.
Home Solutions for Spotting and General Staining
When it comes to keeping your carpets looking their best, regular professional cleanings are essential. But what do you do in between those appointments? Spotting and general staining are inevitable, but there are some things you can do at home to keep them under control.
For spots and stains, always blot (never rub!) the area with a clean, white cloth or paper towel. If possible, treat the spot with a carpet cleaning solution designed for that type of stain. Be sure to test the solution in an inconspicuous area first to make sure it won't damage your carpet.
For general soiling, vacuum regularly using a vacuum cleaner with a good filtration system. This will help remove dirt and other particles before they have a chance to become embedded in the carpet fibers. You can also rent or purchase a carpet cleaning machine for periodic deep cleanings. Just be sure to follow the manufacturer's instructions carefully.
How to Choose the Right Professional For You?
When it comes to choosing a professional carpet cleaning company, there are a few things you need to keep in mind. First and foremost, you want to make sure that the company you choose is reputable and has a good track record. You can check online reviews or ask friends and family for recommendations.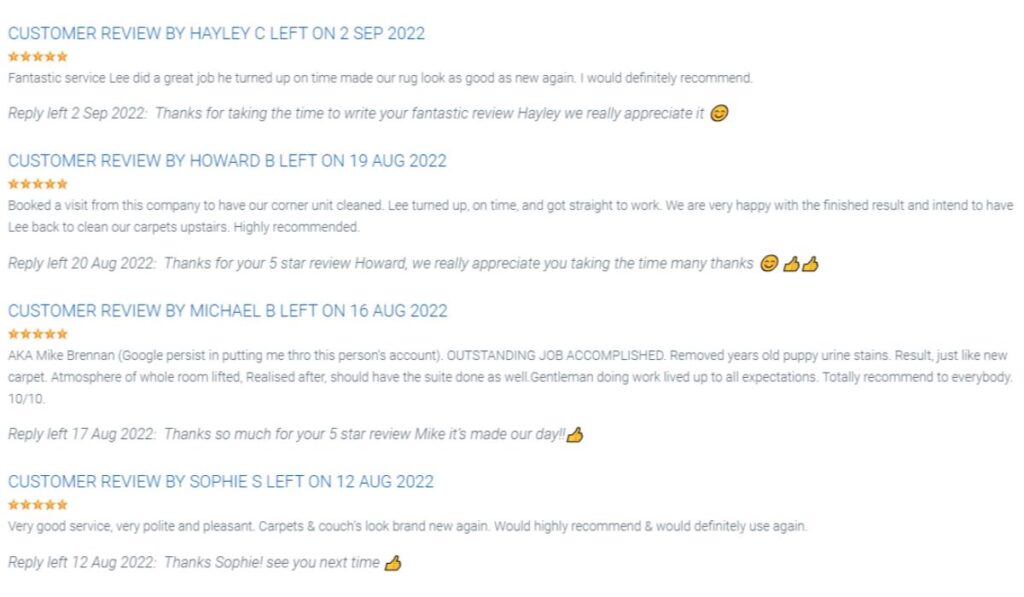 Once you've narrowed down your options, it's important to get quotes from several companies so that you can compare prices. Make sure to ask about any specials or discounts that may be available. And finally, be sure to ask about the company's guarantee or warranty policy in case you're not satisfied with the results.
The Different Types of Carpet Services Offered
If you're considering hiring a professional to clean your carpets, you may be wondering what types of services are available. Here is a rundown of the most common carpet cleaning services offered by professionals:
Deep Cleaning: This type of cleaning is ideal for heavily soiled carpets or those that haven't been cleaned in a while. Deep cleaning involves using powerful equipment and detergents to clean all the way down to the carpet fibers.
Spot Cleaning: Spot cleaning is perfect for small areas or spots that are particularly dirty. A professional will use a targeted cleaning method to remove dirt, stains, and other debris from the affected area.
Steam Cleaning: Steam cleaning uses hot water and steam to clean carpets and upholstery. This method is effective at removing deep-seated dirt and grime.
Dry Cleaning: Dry cleaning is a gentle carpet cleaning method that uses chemicals instead of water to clean carpets. This method is perfect for delicate fabrics or those that can't be wetted (like some types of Oriental rugs).
Conclusion
In conclusion, there are a few things you should keep in mind before booking a professional carpet cleaning service. First, it is important to understand what type of carpet you have and what kind of cleaning solution will work best for it. Second, be sure to ask about any additional fees that may be associated with the service. And finally, make sure you are comfortable with the company's cancellation policy in case you need to reschedule or cancel your appointment.